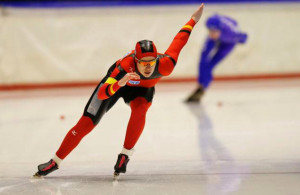 I have been skating since I was eight years old, and I started competing in international competitions when I was thirteen.
After a break, due to my studies in central Germany, I decided to focus on sports again and to train for qualifying for the Winter Olympics.
To reach this goal, I am training twice a day, and about 20 hours a week.
Top Results
I am one of Germany's top-athletes in speedskating and competed in several international competitions such as European Championships, World Championships, and World Cups.
After my recovery from a knee-injury in 2012, I started training again and qualified for my first senior World Cup in 2014.
Below you can find my personal records and results, some videos, and a list of links to additional information.
Personal Bests and Records
Personal Bests
500 m: 38,76 (January 30, 2021 in Heerenveen)
1000 m: 1.17,30 (January 16, 2021 in Heerenveen)
1500 m: 2.06,95 (March 12, 2008 in Calgary)
Records
German record for Juniors — 100 m: 10,76 (March 12, 2008 in Calgary)
German record for Juniors — Sprint allround: 160,940 (March 12, 2008 in Calgary)
Track record Grefrath — 100 m: 11,00 (December 13, 2008)
Track record Grefrath — 300 m: 26,61 (February 23, 2008)
Track record Grefrath — All-Sprint­: 174,020 (January 13 & 14, 2007)
Classifications and Prizes
European Championships Single Distances 2022 — Heerenveen
12th place 500 m
12th place 1000 m
4th place Teamsprint
European Championships sprint 2021 — Heerenveen
European Championships Single Distances 2020 — Heerenveen
German Single Distance Championships 2020 — Inzell
1st place 500 m
4th place 1000 m
German Sprint Championships 2016 — Berlin
German Single Distance Championships 2015 — Inzell
Junior World Championships 2009 — Zakopane
Junior World Cup 2008/2009
1 x 1st place 500 m
4th place 500 m Overall
Links
Press